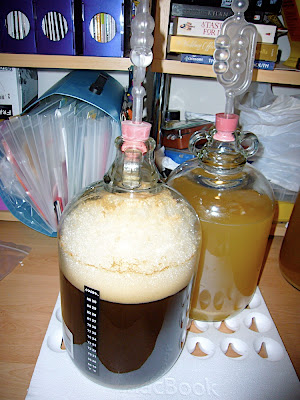 Style: Porter
Volume: 4 Litres or 1 gallon. Just multiply to get amounts for larger volumes.

Ingredients:
560g Dry malt extract (Extra Light Muntons)
50g Crystal malt
50g Chocolate malt
12g Fuggles hops
Safale S04 yeast

Mash\Steeping Schedule:
Steep chocolate malt and crystal malt for 30 minutes @ 66 deg c

Boil Schedule:
Bring to rolling boil
60 minutes: 6g Fuggles hops
30 minutes: 3g Fuggles hops
Add DME
5 minutes: 4g Fuggles hops

Yeast\Fermentation\dry hopping:
Cool and ferment with Safale S04 yeast in 5L demi-john.

Other Notes:
I brewed up this beer as a celebration of being well again. Hopefully beer is good for you and this will help with recovery! I'm looking forward to tasting this to see what the crystal and chocolate malt character will be like.