Back in August last year I got this idea that I would crochet. I don't know why as I hated crochet when I learned it first when young. I made one granny square that was going to be a cushion cover. It was supposed to be two matching squares but I got half way through the second one and gave up. I still have it and maybe I'll finish it eventually
I bought Debbie Stoller's crochet book The Happy Hooker. I'd recommend this book as it has lots of funky projects and the instructions on how to crochet are the best I've seen. A lot of crochet books are old fashioned and feature awful stuff in bad colours but this is different. I then needed wool and crochet hooks. These were more difficult to find than you would imagine. In the pound shop I got a ball of white acrylic to practice on and I found an old crochet hook of mine and tried out some stitches. I found a wool shop in Blackrock, Dublin called This Is Knit. This is a lovely shop run by two nice ladies who knit themselves, they stock all sorts of lovely wool like Noro and Debbie Bliss. So now armed with wool I started making some stuff.

Spring in Winter Hat: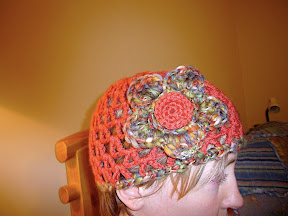 This turned out well although I haven't worn it too much since I'm not a huge fan of red.

Fat Bottomed Bag: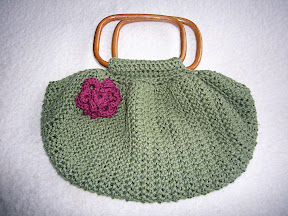 This bag is also from The Happy Hooker and it's lovely. I was on holidays when I made this and it made long car journeys pass quickly.

I also got some wool donated to me. I got a few balls of purpleish mohair and so I used that to make the Cold Shoulders Capelet from The Happy Hooker. This got left on the back burner for a while but it eventually got finished. It was much easier to make than I thought it would be.