I decided it was high time I learned how to knit in the round on double pointed needles so I decided to make the Fetching handwarmers from knitty. I decided to make the Berry hat from Emma King's Fun and Funky Knitting to match them. I got some Noro Silk Garden wool from This Is Knit and got started. When I started using the double pointed needles it felt like wrestling with a hedgehog but it got easier as I went on.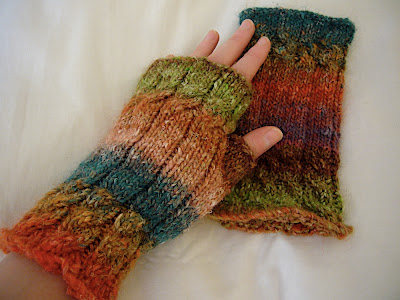 They ended up turning out really well. The Noro Silk Garden is a cool wool as it self stripes. It was a bit rough at first but after I blocked the gloves and wore them it softened up and is much nicer now.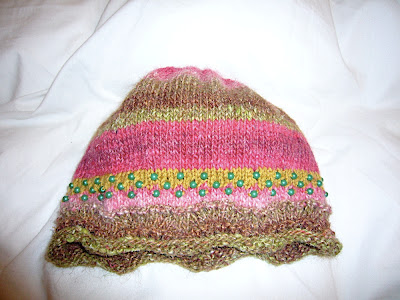 This is the Berry hat. I was really pleased with this. The lace on the bottom of the hat is pretty and the colours striped in just the right places. The beading was surprisingly easy to do.
After all this success I decided I'd do a simple spiral crochet scarf in a colour that mostly matches the hat and gloves. This pattern is really simple, you crochet a long chain then treble crochet into each one along the chain, then the next row you do two treble crochet into each and the same again on the next row so you end up with a spiral.